Welcome to another team member spotlight for Brick Media! In this segment, you will get to know about our Tampa social media agency and the people behind the scenes.
Today's team member spotlight is on Faith Olmstead. Faith is a Social Media Manager at Brick Media, and she's been on the team since January 2022. Her primary role as a Social Media Manager is to plan and create content, manage client social platforms, and build meaningful relationships with the Account Manager and clients!
Get to know Faith a little more here – in her own words!
What do you enjoy most about your role at Brick Media?
I love the flexibility of making my own schedule. it allows me to have a great work/life balance!
How would people describe you in a few words?
I think people would describe me as quiet, funny, and creative!
What is one of the top movies or TV shows you'd recommend to people?
I love the show, The Amazing Race!
What are some of your favorite things to do outside of work?
I enjoy going to the beach, being in nature or with animals, and spending time with my boyfriend exploring new areas of Tampa Bay.
What would you say to somebody wanting to work in marketing?
I would tell someone who wants to work in marketing to keep an eye on the trends and get comfortable with how quickly they change. I'd also tell them to not be afraid to pave their own way and try something different when creating content. With trends and experimentation aside, the important thing to remember when building a brand is that you have to stay consistent.
What advice would you give a small business owner looking to improve their brand awareness and online presence?
I would recommend that they make posting a priority and just try their best when creating content! While it's important to show your product, it will make more of a difference when you also show the person or team behind it. As a business owner, don't be afraid to show some "day-to-day" parts of the business. Pro Tip: When making/posting reels, always be sure to use trending audio to reach different and new audiences.
What's a great piece of advice you've received, professionally or personally?
"Give grace to yourself and to others. You really never know what someone is going through. We all need it."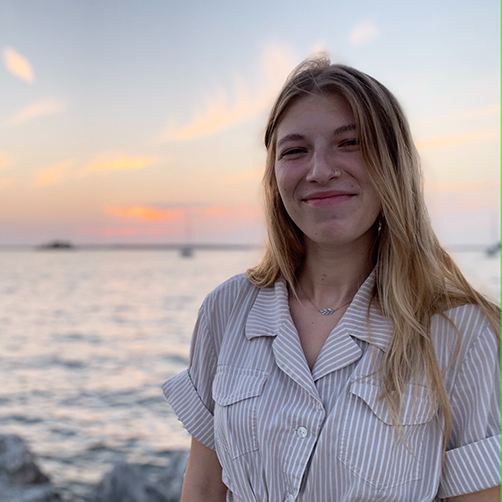 Thanks for tapping in and getting to know our team members a little bit more. They are the magic behind everything we do at Brick Media.
Looking for a Social Media Agency to Help You Stay Ahead of Changes in the Industry?
Click Here to Schedule a 15-Minute Intro Call with Brick Media!