Hello there! 🤝
Maybe you're a business owner. Maybe you lead a marketing department at a company. Has social media has always been one of those things that you don't know how to execute on effectively?
Well, the Brick Media team is here to help you. Keep scrolling down and learn how to execute a social media marketing strategy for your business.
Yes, we are an option. However, we're not naive to the fact that we're not the perfect fit for every company's situation. There are some great options out there, and 3 big ones come to mind – depending on what the best fit is for your company.
Here are 3 ideas below for how businesses can effectively execute their social media strategies.
👇👇👇
1. Building a Robust In-House Social Team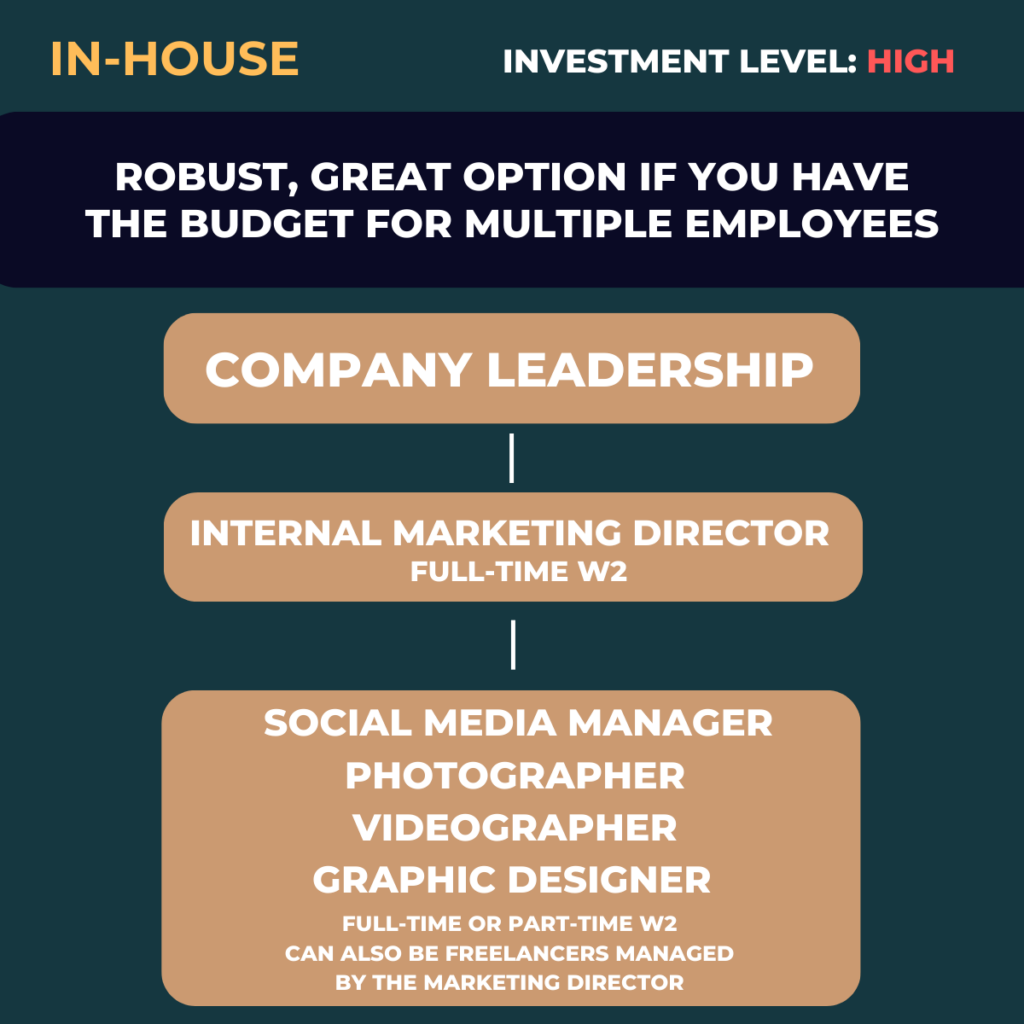 Creating an in-house team is a substantial (expensive) yet potentially rewarding investment. Here's a simplistic breakdown of some of the key roles you would need to make this successful:
Social Media Manager: This individual handles the daily rhythm of your social media — from crafting content calendars to responding to DMs and comments, and creating essential content, possibly leveraging tools like Canva for simple graphics.
Content Creators: These are your true artists, bringing visions to life through high quality photos, videos, and graphics — a resource essential for creating the visuals your brand needs.
Marketing Director: This person is key. They oversee the strategy and ensure alignment with the company's big picture goals. They act as the bridge between the leadership and the social media team, steering the ship strategically.
While having an in-house team ensures seamless control, it comes with a hefty price tag in most cases – making social media agencies (such as us at Brick Media) a more cost-effective, expert-driven alternative.
---
2. Hiring Freelancers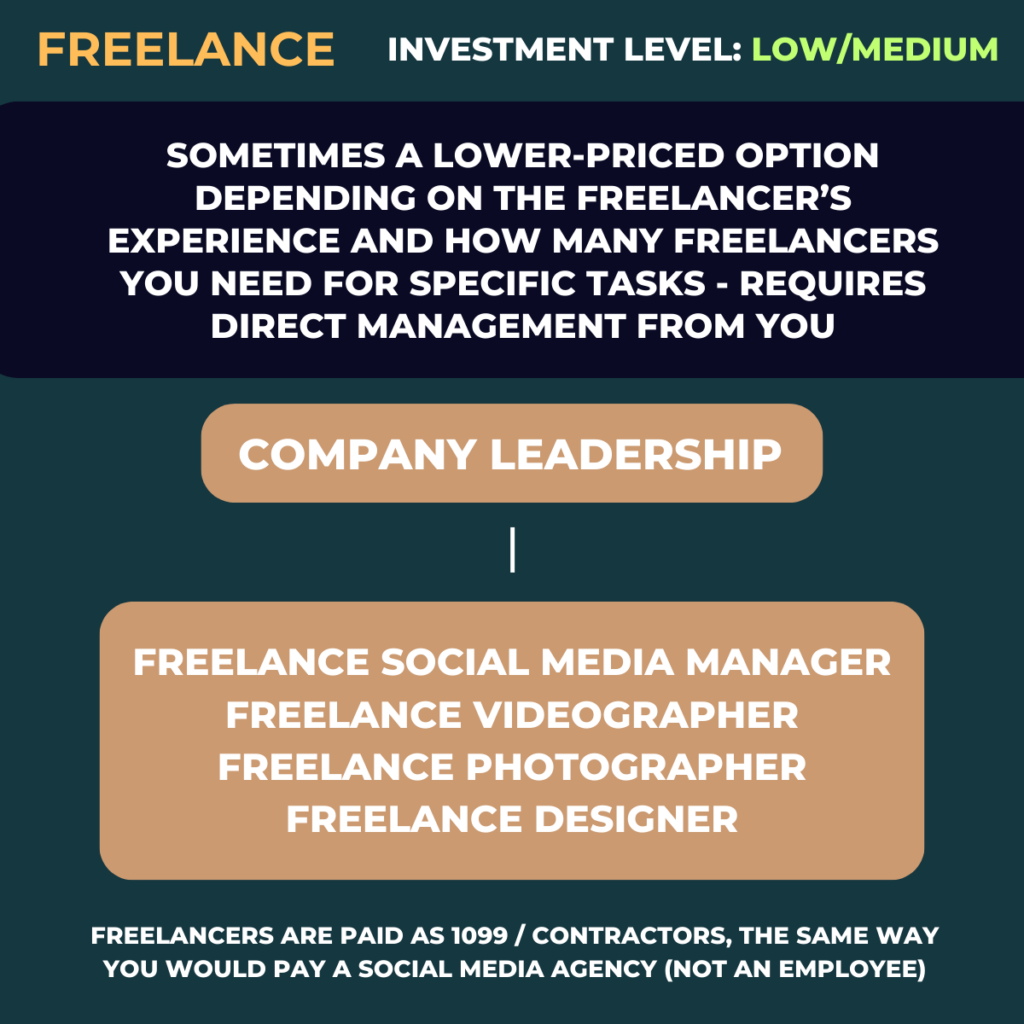 Going solo with a freelancer is an economical and flexible choice, especially for small to medium-sized businesses who are first embarking on their social media journey.
Here's what this option entails:
Freelance Social Media Manager: This individual can take on a variety of roles including strategizing, content creation, and community management. They can help you maintain a consistent social presence – but usually within a limited scope compared to a full team.
Specialized Content Creators: If your brand requires a higher level of expertise in content creation, hiring freelancers who are experts in photography, videography, or graphic design can be a great route. They can help craft high-quality content on a project basis or ongoing for a certain amount of content per month.
More Management from You: Working with freelancers requires a collaborative approach – where you (the business owner or internal point of contact) would actively engage in strategizing and planning – ensuring the freelancer has a clear understanding of your brand vision. The freelancer, in most cases, executes at your direction.
Cost-Effectiveness: Freelancers can sometimes work within lower budgets because they don't have as much overhead as a team. However, keep in mind the added "cost" here is more of your time and effort in the relationship.
---
3. Partnering with a Social Media Agency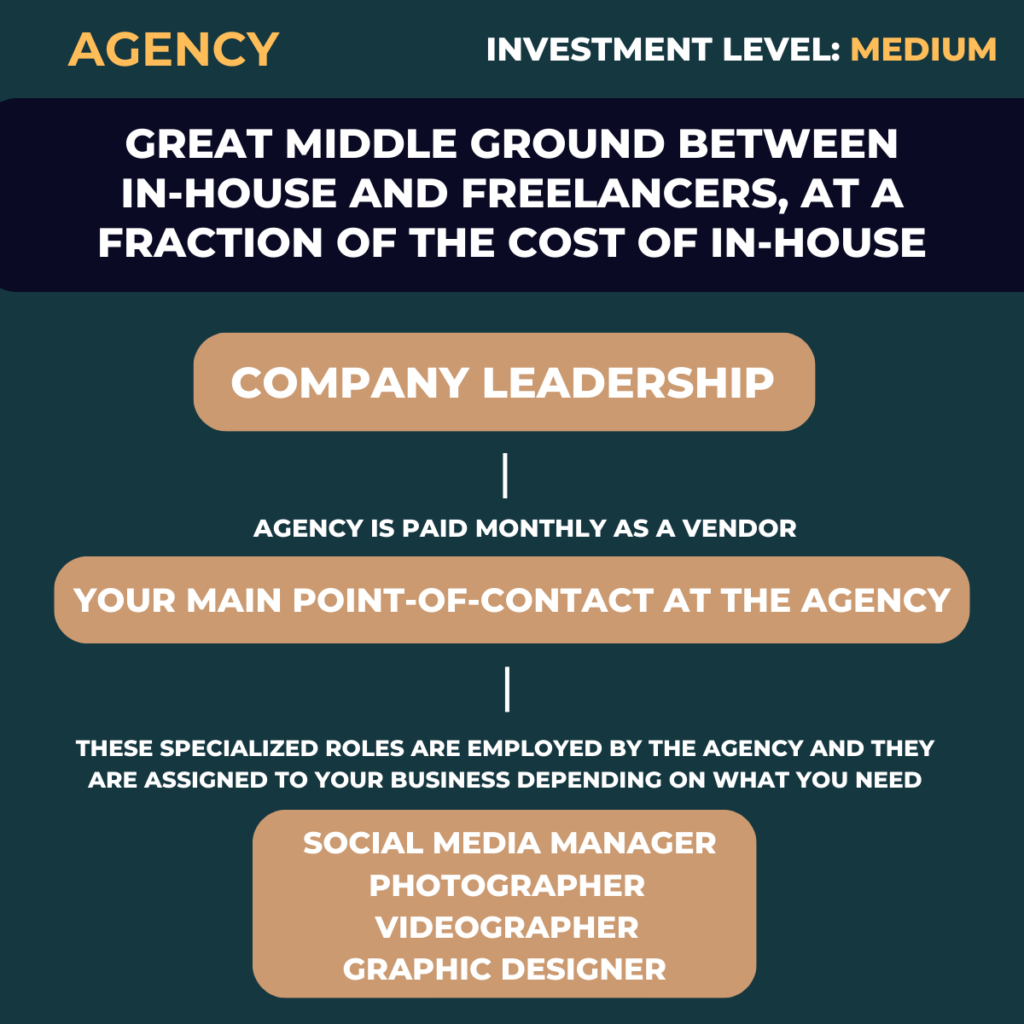 Entrusting your brand's social media to an agency is like having a full team of experts at your disposal. Here's how an agency operates:
Dedicated Team: A social media agency has a team of experts, each specializing in different facets of social media marketing – offering a holistic approach to your brand's presence. At Brick Media, for instance, we offer content creation, social media management, a point of contact, and strategy all for one monthly price. In most other cases, you'd have to piece this together.
Strategic Content: Agencies often come with a wealth of experience from working with so many brands. At Brick Media we come up with ideas grounded in a deep understanding of different platforms, mixed with the nuances of your product/service and target audience.
Consistency and Quality: With a team at work, agencies offer consistent, high-quality content that resonates with your brand's voice and caters to defined audience buckets.
Costs: Typically more expensive than a freelancer, but less than the in-house employees option. While agencies often come with a higher price tag compared to freelancers, they offer a comprehensive solution, saving you the time and hassle of managing individual people yourself. It's a one-stop solution for consistency and quality.
Shameless Plug… this is what we do at Brick Media.
Schedule a call here if you'd like!
---
Looking for a Social Media Agency to help your business stay consistent and take your digital footprint to the next level?