Being a marketing agency ourselves, we always appreciate a great social media strategy. Some of the biggest brands in the world often struggle with what to post on social media.
Since posts often are discussed in boardrooms and approved by people who don't "get it" to begin with, social media posts can sometimes just feel dry, boring, and lacking cultural relevance.
This is NOT the case with the Tampa International Airport's social media presence. Over the past couple of years, their accounts have taken off and become a viral sensation in the Tampa Bay area. If you ask a regular Instagram user in the Tampa area, chances are they follow (or have seen) the airport's account.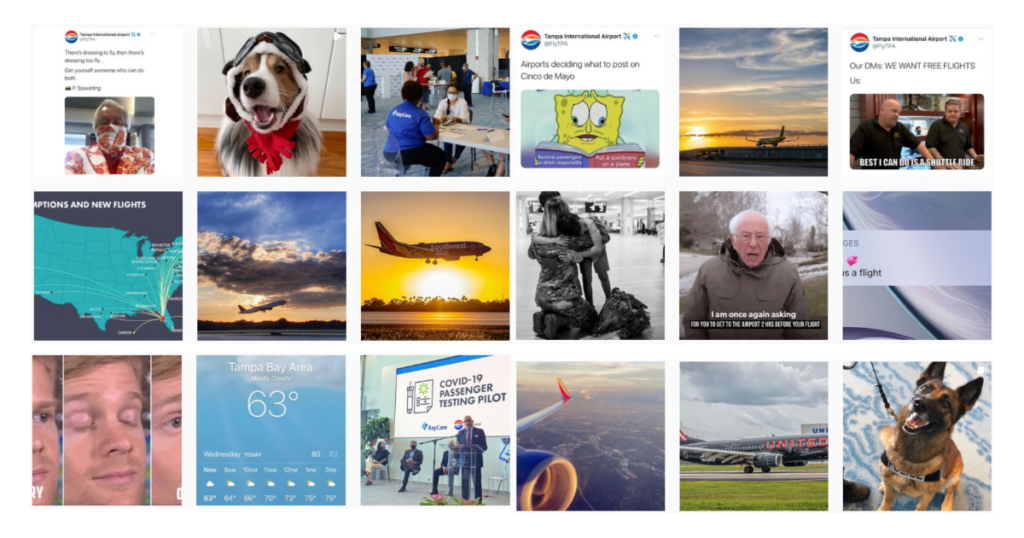 One day you might see a trending meme with the airport's spin on it.
One day you might see Spongebob.
One day you might see tipsy Tom Brady having fun after the Super Bowl celebration.
One day you might see an informational post, or an announcement. They still do take things seriously and keep their audience informed. It's not just a meme page. However, now more people see this info because of the clever strategy they have in place!
Drumroll please…
It's time to meet the person behind the FlyTPA social media presence. Let's get to know Ashley Iaccarino, the airport's Communications Manager.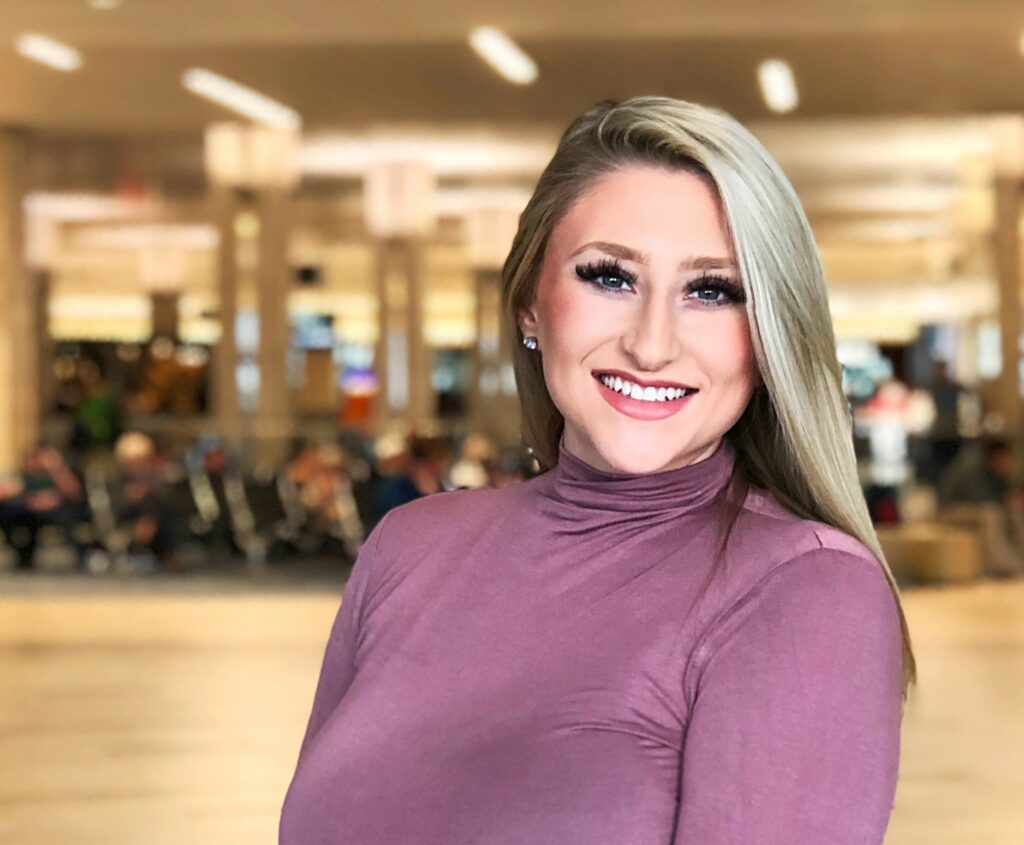 Hey Ashley, it's great to feature you on the Brick Media blog. We appreciate you taking the time!
Could you share a little bit of your origin story, where you grew up, school, and how you got to the Communications Manager role with the Tampa Airport?
Sure thing – I grew up in West Palm Beach (born and raised) and moved to Gainesville when I was 17 to attend the University of Florida. After college, I wanted to move to a big city, something like New York or Chicago, but it didn't seem feasible with no professional work experience – and I'd be very far from my family members who still live in South Florida. I was waitressing at Chili's at the time, so I decided to transfer to a Chilis in Tampa and look for opportunities to start my career in public relations.
While waitressing at Chili's in Tampa and trying to find a 'real job' I met a regular at Chilis and he introduced me to a mentor who introduced me to Bob Buckhorn, the mayor at the time. Through my mentor, I found out about a paid internship at TPA and decided to apply. When I showed up for my second round of interviews, the VP of Communications told me the Mayor called on my behalf, recommending me for the job.
After 9 months of interning, I was promoted to Communications Coordinator and later to Communications Manager.
Did you always want to be in marketing? What do you like about working in marketing?
I always wanted a career in public relations, but wasn't sure if I wanted to work for an agency or in-house. I wanted a job where I could really use my writing skills and creativity and have fun while doing so.
The leadership at the Airport has bestowed trust in me to tell TPA's story while having fun, and I'm so grateful for that.
How would you describe the current social media marketing strategy for the airport?
Our strategy at TPA is pretty non-traditional for an Airport, but that's kinda what makes it extra fun. We have a great relationship with our audience, and we keep a consistent voice throughout all of our posts.
This has helped us to not only connect and engage with our audience, but we've built a strong, loyal following that is there to listen whether we're talking about new airline service or posting funny memes. When it's time to share key Airport messages, our audience is listening.
What has the success of the airport's social media voice taught you about today's marketing world as a whole? What does it say about what modern day consumers?
Well, people go on social media to be both informed and entertained, so that's what we focus on. It's crucial for us to shield our audience from bad content. My M.O. has always been to not take life so seriously, so I try to channel that through our voice on social media.
I want to make people laugh and give them some comic relief from whatever they may be going through, and I'm able to do that through our social platforms while really helping tell the story of Tampa International Airport.
What is your favorite post you've ever done for the airport, and why?
Oh man, that's a hard one! I think this is one of my favorites because it just set itself up. I remember laughing for like ten minutes after I posted it.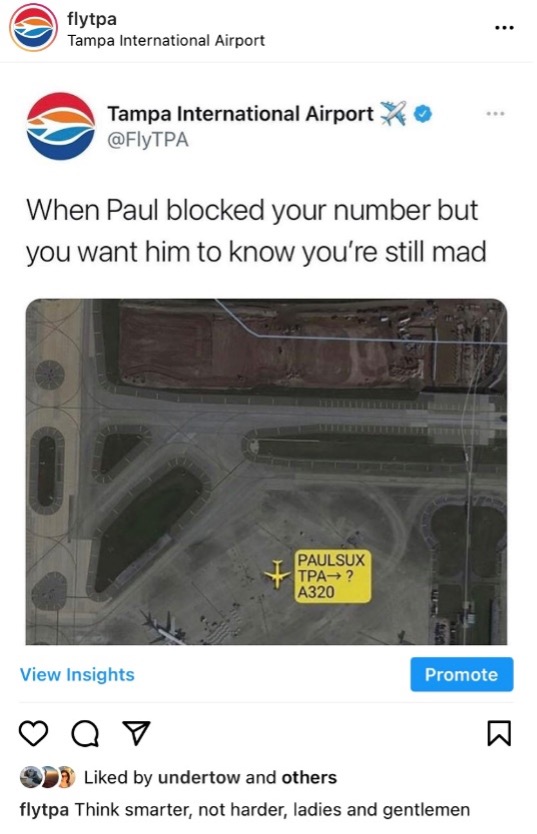 What was the most successful post so far, in terms of the most engagement or virality? Why do you think it did so well?
This was one of our top posts last year. I think it did so well because people were sharing it like crazy. Travel always promotes some sort of togetherness whether it's with your friends, relatives, significant other and this post was shared more than 8,000 times.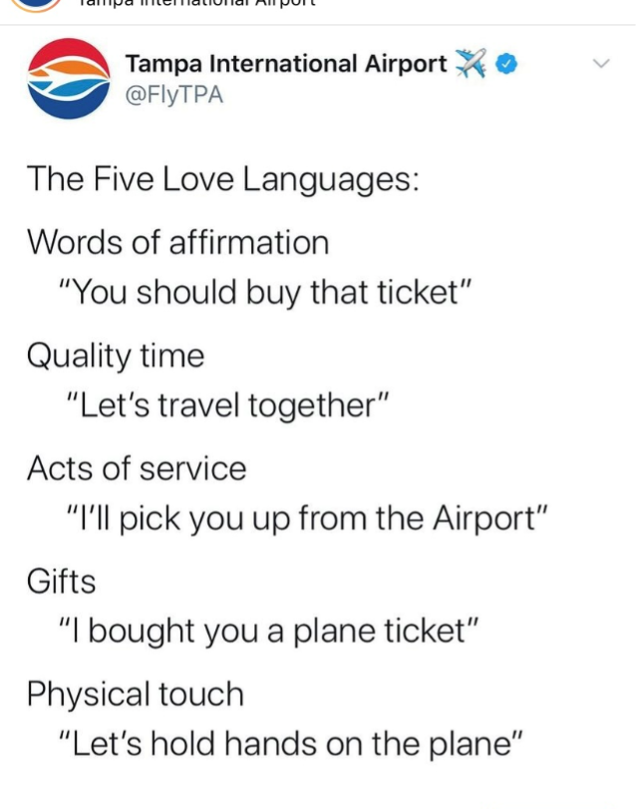 How does the culture of the airport's marketing team help the ability for new fun ideas to see the light of day? Was it difficult at first to get everybody on board with this new style?
Both our marketing and communications teams are filled with fun, creative people, so for the most part, my colleagues have always been on board. They trust me to study trends and relate to our audience while sharing key messages from the Airport.
Numbers don't lie, and we've got a ton of strong metrics and data to show that our strategy has been successful as well.
What was a big learning or lesson while managing a social media presence for an airport during a global pandemic?
It was certainly tough at first because we went from having a ton of information (about new service, passenger growth and awards) to share to a huge dip in our passenger numbers because of the pandemic, so we really had to pivot our content to be even more relatable to our audience.
We tried to humanize our content so our audience felt like we understood what they were going through and show that – even though we're an Airport – we missed seeing our passengers as much as they missed traveling. We kept a positive tone and tried to look forward to the future as much as possible.
What can companies do better on social media in 2021 and beyond? What's missing, or what aren't they "getting" about it?
To me, social media is really about keeping your audience entertained. We try to remember through every post that we can have fun and not be so serious.
I think companies looking to boost their social media following or engagement should try adding some humor and fun to their platforms.
On a personal level, what is an important life lesson you've learned that you can share with our readers?
As I've gotten older, I've really realized the importance of relationships – family, friends, colleagues – even strangers – and how crucial it is to cherish your close relationships.
In PR, the relationship with your audience is just as important. You have to learn who you're talking to so you can relate to them on somewhat of a personal level – even if it's through a tweet or an Instagram comment.
Feel free to share this article on your social feeds!
Connect:
If you're looking to hire a Marketing Agency to help you with your social media presence, fill out the form below and a representative from Brick Media will be in touch shortly!